March is always my favorite time of the year! I love reading The Cat in the Hat by Dr. Seuss to my students and decorating my classroom with the whimsical characters found created by Dr. Seuss! March is the time of the year when teachers from all across the country are decorating their classrooms and doors with themes from their favorite books, characters, or authors! This Dr. Seuss vowel bulletin board will get your students excited about reading and learning their vowels, too! Click here to also find out how I created a Dr. Seuss-themed door decoration for my classroom!
I used the Dr. Seuss Giant Cat in the Hat Bulletin Board Set as the focal point of my Dr. Seuss themed bulletin board. This bulletin board is a cute and simple way to help brighten up the classroom and encourages students to learn their vowels!
I started by laying down Fadeless® Weathered Wood Paper Roll for my background. I outlined my bulletin board with Red Chevron Bulletin Board Border and overlapped it with The Cat in the Hat® Bulletin Board Border. I created the phrase, "What is the Vowel?" using Dr. Seuss® Bulletin Board Letters in red/white striped and black. I also sewed together a red and blue paint chip circle garland to add to the top of my bulletin board.
Add vowel buckets to your Dr. Seuss bulletin board by decorating Mini Red & White Striped Popcorn Boxes with Dr. Seuss® Washi Tape and Dr. Seuss® Cat in the Hat® Theme Stickers. I labeled each bin with one of the five vowels using a Dr. Seuss® the Cat in The Hat® Bulletin Board Cutout and letters from Dr. Seuss® Black Bulletin Board Letters & Numbers.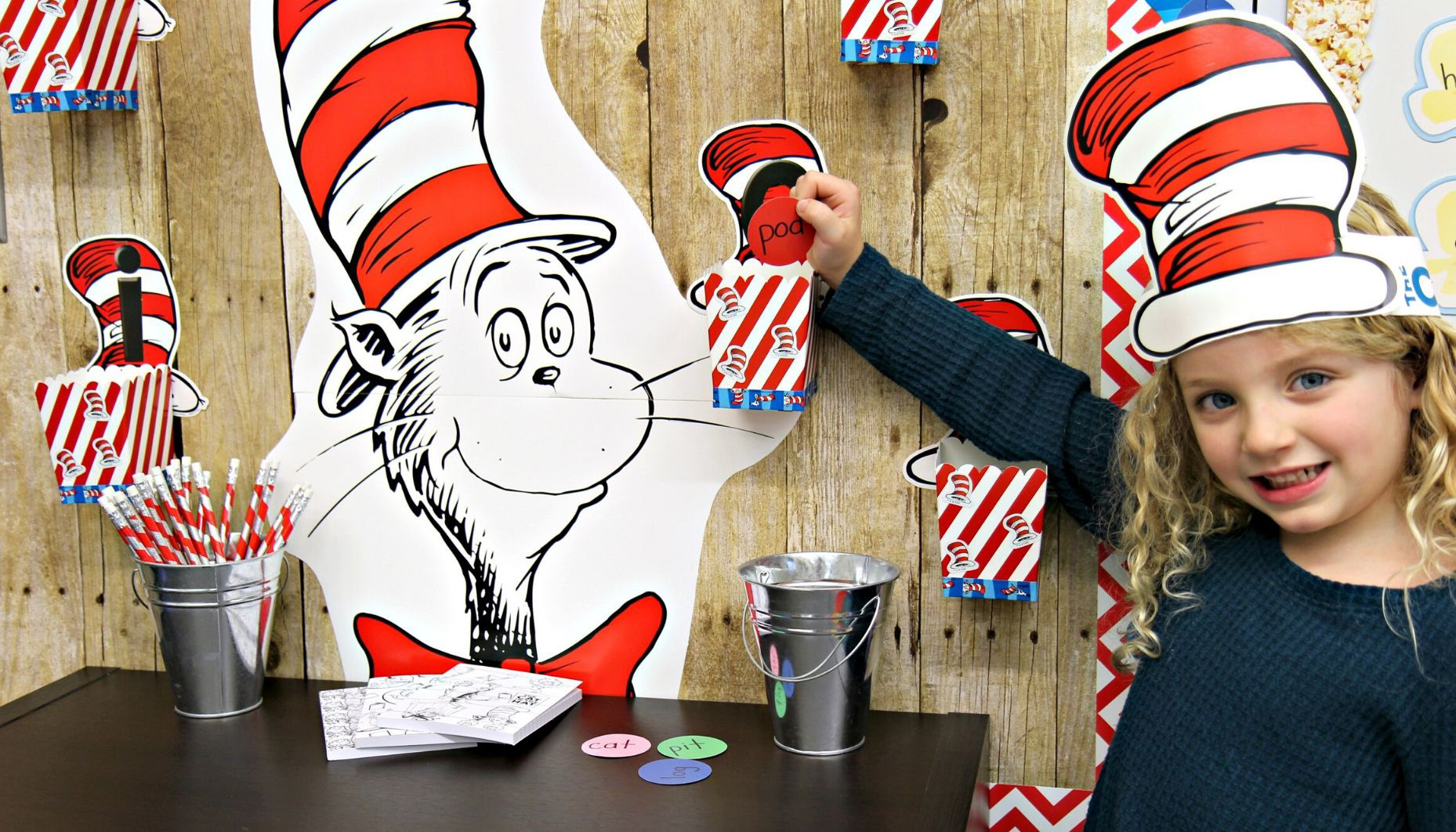 Using a black permanent marker, write CVC (consonant-vowel-consonant) words on Paint Chip Circles. Your students will then be able to pick out a paint chip circle from a bucket, read the word, and identify the vowel.
Students must then write the word in their Dr. Seuss Color Me Memo Books and place it in the correct vowel bucket on the bulletin board. This hands-on and interactive activity is great for vowel identification and CVC writing practice! Your students will also love learning their vowels while wearing these Dr. Seuss® Hats! So, the next time you're planning on changing your bulletin board, create an interactive, hands-on bulletin board that your students will learn from and enjoy!