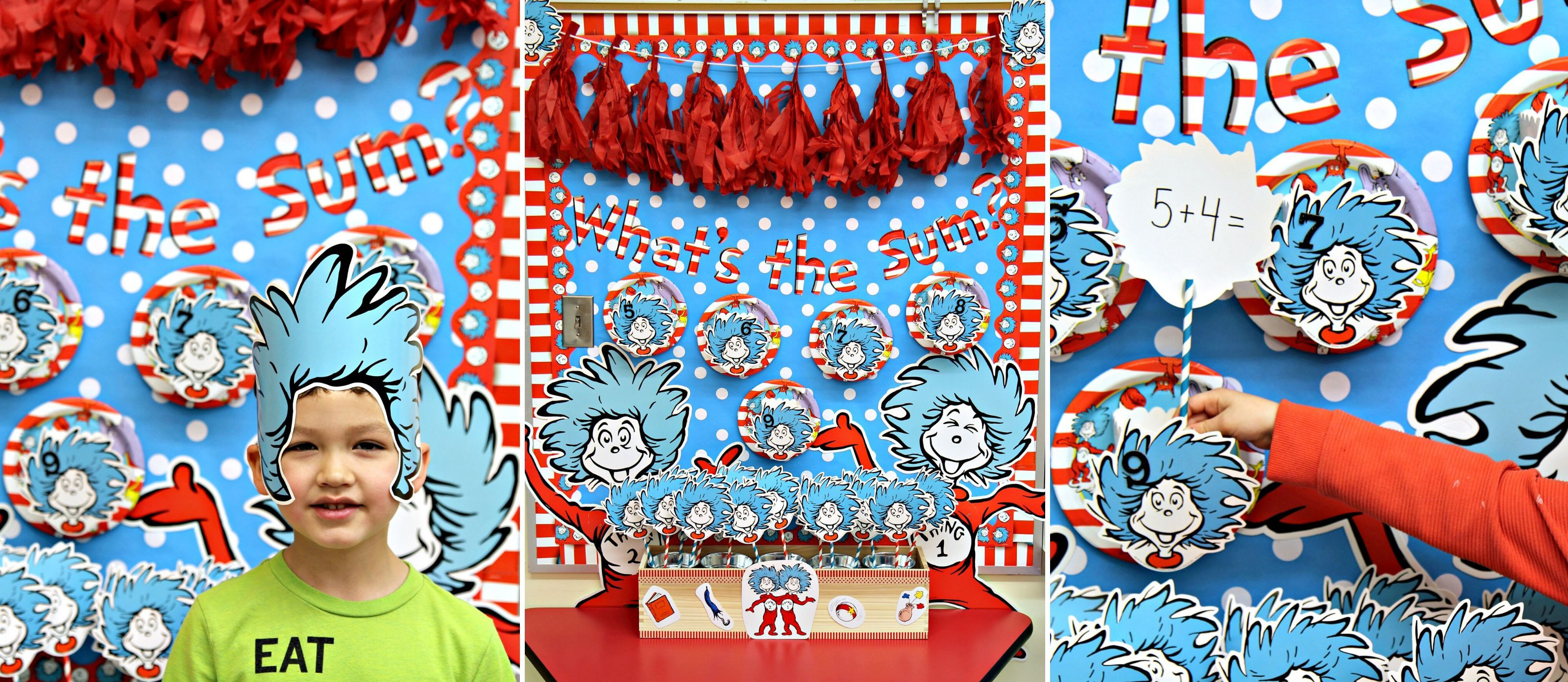 I love reading Dr. Seuss books to my students and decorating my classroom with his whimsical characters! March is the time of the year when teachers from all across the country are decorating their classrooms and doors with themes from their favorite books, characters, or authors! This Dr. Seuss Thing 1 and Thing 2 Addition Bulletin Board will get your students excited about solving addition sentences while improving their addition fluency, too.
I used the Dr. Seuss The Cat in the Hat Jointed Cutouts for inspiration when creating my Dr. Seuss Thing One and Thing Two themed bulletin board. I love how large these cutouts are, and how vibrant the colors are. These cutouts are bold and can be used as the focal point of any Dr. Seuss themed bulletin board.
I started designing my bulletin board with Pacon® Fadeless® Art Aqua Classic Dots Paper Roll as my background. I outlined my bulletin board with Dr. Seuss Wide Bulletin Board Border and I overlapped it with Dr. Seuss Thing 1 & 2 Bulletin Board Border. I created the phrase, "What's the Sum?" using Black Dr. Seuss Bulletin Board Letters overlapped with Dr. Seuss Striped Bulletin Board Letters. I also added a Red Tassel Garland to the top of my bulletin board for some texture and to make the bulletin board pop!
Storage is always a plus when creating an interactive bulletin board. I decorated a DIY Unfinished Wood Planter Box using Red Washi Tape and Dr. Seuss Character Bulletin Board Cutouts. I adhered the cutouts to the unfinished wood planter box using Glue Dots. Lastly, I filled the unfinished wood planter box with Medium Galvanized Metal Pails. These galvanized metal pails make it easy for your students to store and clean-up Thing 1 and Thing 2 cutout addition sentences.
Using a black permanent marker, write addition sentences on the back of Thing 1 Bulletin Board Cutouts. I adhered the cutouts to Red and Turquoise Paper Straws using hot glue. Your students will pick out a Thing 1 cutout from the DIY Unfinished Wood Planter Box, read and solve the addition sentence, and identify the sum.
Add Dr. Seuss Paper Dessert Plates to your bulletin board and adhere or staple Mini White Popcorn Boxes on top of each plate. Add a Thing 1 Bulletin Board Cutout onto each Mini White Popcorn Box. I labeled each bin with American Crafts Thickers 3D Black Glitter Number Stickers.
After identifying the sum, students will place their Thing 1 Bulletin Board Cutouts into the corresponding popcorn box. Writing improves memory recall! I had my students use Dr. Seuss Color Me Memo Books to write each addition sentence and record the sum.
Your students will love practicing their addition facts while wearing these Thing One Hair Hats! So, the next time you're planning on changing your bulletin board, create an interactive, hands-on bulletin board that your students will enjoy! Looking for more Dr. Seuss inspired classroom decor? Check out how to make an Oh The Places You'll Go Door here!