Art is a creative expression that allows students to grow and create. It also encompasses so many of the developmental domains that are important for children of all ages. Creating a space that allows students to express their creativity through art is easy. This Crayola® Maker Space is perfect for students to create crafts, projects, or art using a variety of Crayola® products. This space will help foster young minds to think in innovative ways and to make magnificent works of art.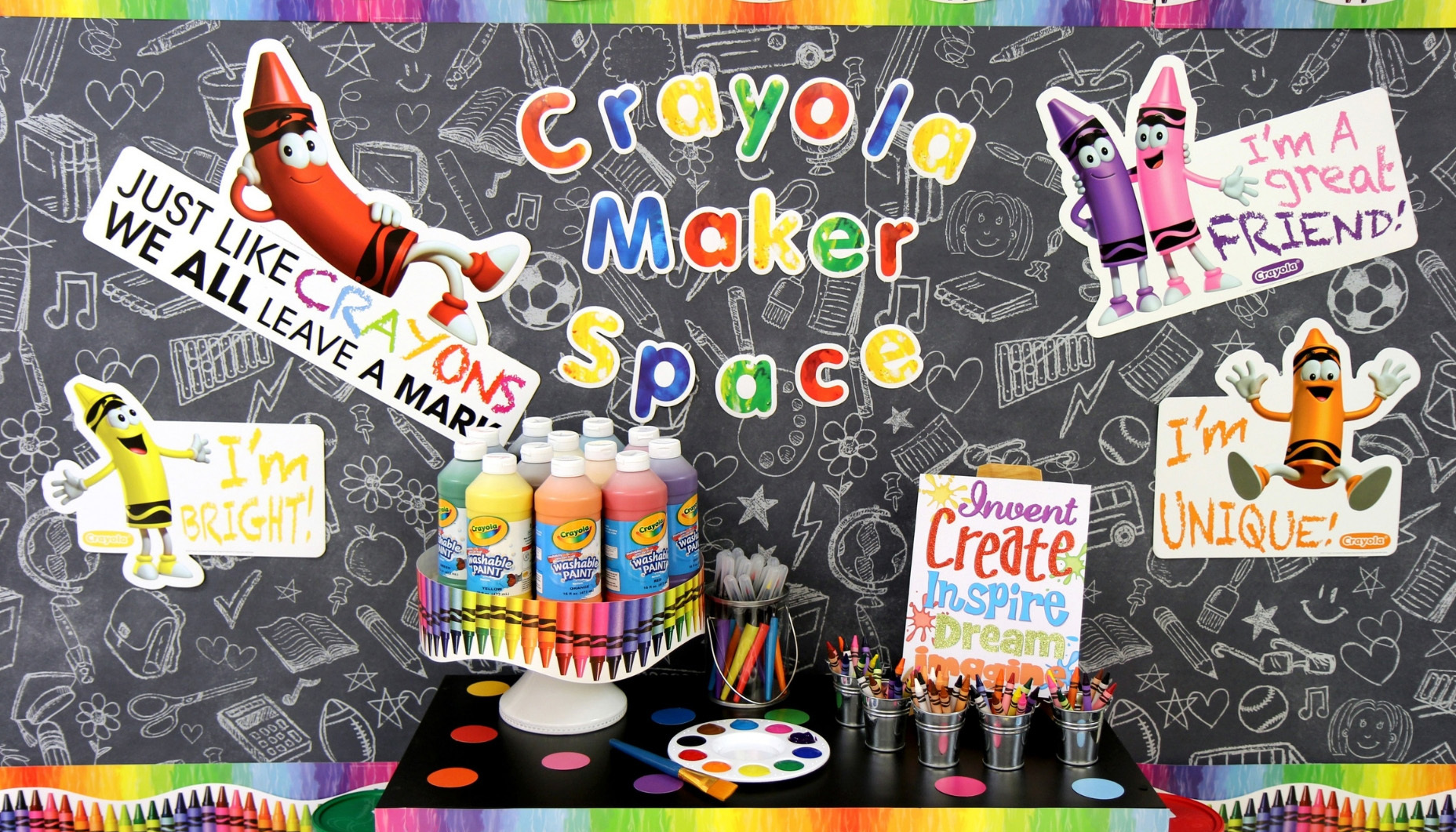 A maker space is a great way to engage your students in hands-on learning through making. I started creating my maker space by decorating one of my classroom bulletin boards using Fadeless® School Doodles Bulletin Board Paper. This paper encompasses the free-spirited art enthusiasts that love to doodle on everything! I outlined my bulletin board with Crayola® Bulletin Board Borders and added Jumbo Crayola® Classroom Cutouts to it. Lastly, I added a fun and colorful title to my bulletin board using Crayola® Bulletin Board Letters & Numbers.
Now that we have the backdrop of our maker space put together, it's time to start organizing all of your Crayola® supplies! I started organizing my maker space by dividing up my 16-Crayola® Crayon Classpack® into some Mini Galvanized Metal Pails. These galvanized pails are perfect storage solutions since your students can bring them back to their seats while working.
When creating a maker space, I wanted to display paint in a fun and organized way; however, I did not want my students to be able to reach it. Let's face it, paint can get messy! I used a White Ceramic Cake Stand to display my Crayola® Washable Paint Assortment. I also added a Crayola® Bulletin Board Border around the outer edge of the cake stand to tie everything together. Plus, these Round Paint Palettes hold the paint perfectly and make your work area mess-free and organized for your students. If you are looking for a mess-free alternative for your students to be able to paint independently without the fear of getting paint all over themselves or on their clothes, I highly recommend using Crayola®'s No Drip Paintbrush Pens. These paint pens help bring imaginations to life without the mess of traditional painting activities.
The most important part of creating an efficient maker space is to effectively store all of your supplies and materials in a convenient and organized way. I used a storage cube that I purchased from a local craft store to house all of my craft and art supplies in. Inside the storage unit, I used Unfinished Wood Slat Crates and Paint Bucket Favor Containers to organize my Crayola® art supplies and activities. I labeled each container using Crayola® Name Tags/Labels. I added 8-Color Crayola® 8 Pc. Multicultural Colors Crayons, Crayola® Pip-Squeaks, Washable Wacky Tips Markers, 30-Color Crayola® Twistables Colored Pencils, and Crayola® Metallic Colored Pencils into the paint bucket containers for my students to use.
One thing to always keep in mind when creating a maker space is that you always want most of your art supplies and activities to be easily accessible to your students so they can create whatever they want. One of my favorite Crayola® items that I always allow my students to use whenever they want to express themselves is the 6-Color Crayola® Dough Resealable Buckets. This dough is perfect for your students to mold, manipulate, or transform into something amazing! Plus, the resealable buckets keep the dough fresh and ready to use each time! I covered each of my tables with a Yellow Plastic Tablecloth for easy cleanup, too! We all know how important that is!
After you have all of your supplies organized and easily accessible to your students, it's important to think about what activities you want your students to participate in. I like to provide a Crayola® My Great Ideas Box Craft Kit so my students can brainstorm ideas for their next creation. These idea boxes are a handy place for your students to store all of their ideas.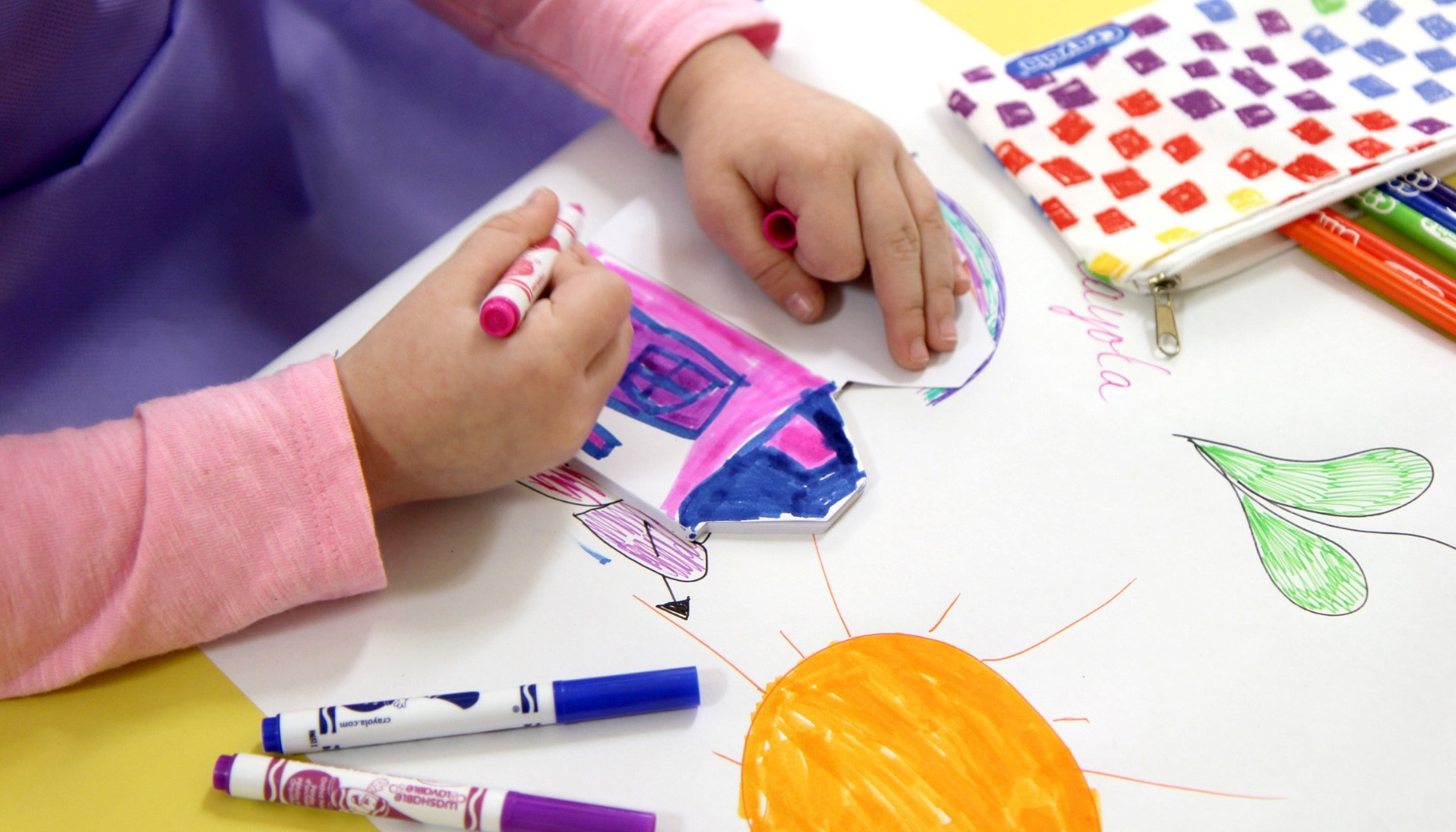 Whether your students are doodling, drawing a superhero, or illustrating a book, they will love using this Wooden Tabletop Paper Roll Dispenser to express themselves! Your students can also use these Crayola® Notepads to draw out their ideas, too! Plus, my students love using the Crayola® Pencil Cases to bring various art supplies and materials back to their seats during indoor recess. This is a great alternative if you want the whole class or a small group to work on a project without sitting at the maker space.
Providing your students with a variety of fun and engaging activities at your maker space is important. Some of my students' favorite activities and supplies include the Color Your Own Eric Carle's "The Very Hungry Caterpillar" Crowns, Color Your Own Mermaid Crowns, Color Your Own Cool Doodle Bookmarks, DIY Unfinished Wood Heart Cutouts, and DIY Spring Bug Watercolor Shapes.