What should I have the students do when they finish an assignment or activity early? This is a question often asked by teachers. An easy solution is to have the students read, but wouldn't it be nice to have activities that students can easily manage and complete independently with easy clean up? Of course! These activities can be easily stored in a Clear Storage Pouch Set or placed on a Cool Craft Tray. Plus, all of these materials can be easily wiped clean to ensure the safety of all students! So ease your mind with these 10 early finishers classroom activities. This will ensure that you are not scrambling to find something meaningful for students to complete when they are finished with their work!
1. TEN FRAME DOUGH COUNTING MATS
Every child loves playing with Neon Dynamite Dough! This activity is great for focusing on counting, number recognition and fine motor skills! Students will use the Ten Frame Mats and Neon Dynamite Dough to fill in each ten frame with the number represented on each card. The bright and colorful pictures that correspond with each number keep students engaged and focused. The ten frame mats are printed on laminated card stock. This allows for easy cleaning between each use.
2. UNIFIX CUBES NUMBER HAT ACTIVITY
Learning can be so much fun with this Unifix Cubes Number Hat Activity! This activity is perfect for counting, comparing, and number recognition. Students will enjoy labeling the stacks of Unifix Cubes with the correct number. It is also great for comparing numbers using the vocabulary words greater than or less than. Students will be able to visually see the difference when looking at the height of each cube to compare each number.
3. WONDERFUL WOOD ALPHABET LACING BEADS
These Wonderful Wood Alphabet Lacing Beads are a great way to improve letter recognition and to build automaticity. Tie a knot on one end of the provided shoelace. Decide which letters your students are struggling with or need extra practice with. String the letters onto your shoelace in random order and tie a knot on the other end. Be sure to leave some extra room so your students can move the letter cubes from one end of the string to the other.
4. SAY IT, BUILD IT, WRITE IT: DRY ERASE SHEETS
These Say It, Build It, Write It: Dry Erase Sheets are great for practicing word work. Word work allows students to explore the spellings and/or meanings of words. It also helps build automaticity when focusing on sight words, too! Students will enjoy using Plastic Magnetic Letters to build each word, and then practice writing the word with a dry erase marker and a mini dry erase eraser.
5. TEN FRAME TRAY AND COUNTER ACTIVITY
These Ten Frame Trays will help your students develop a concrete understanding of the concept of ten and patterning. It also makes one-to-one placement simple for your little learners. For this activity, students will roll a 10 Sided Dice and fill their ten frame tray with Cupcake Counters. To differentiate this activity, provide students with two, Ten Frame Trays and a 20 Sided Dice to practice numbers 1-20. For an extension, have students practice writing the number they rolled on a mini dry erase board.
6. RAINBOW CRAFT STICKS LETTER MATCHING
Rainbow Craft Sticks are not just for making children's crafts. They are actually an excellent resource for creating your own educational activities that are easy, inexpensive and versatile! To create this activity, use a Sharpie® Fine Point Permanent Marker to write on each rainbow craft stick. Students will love matching uppercase letters to lowercase letters, building their own words or building sight words with these rainbow craft sticks!
7. MELISSA & DOUG® PATTERN BLOCKS & BOARDS PUZZLES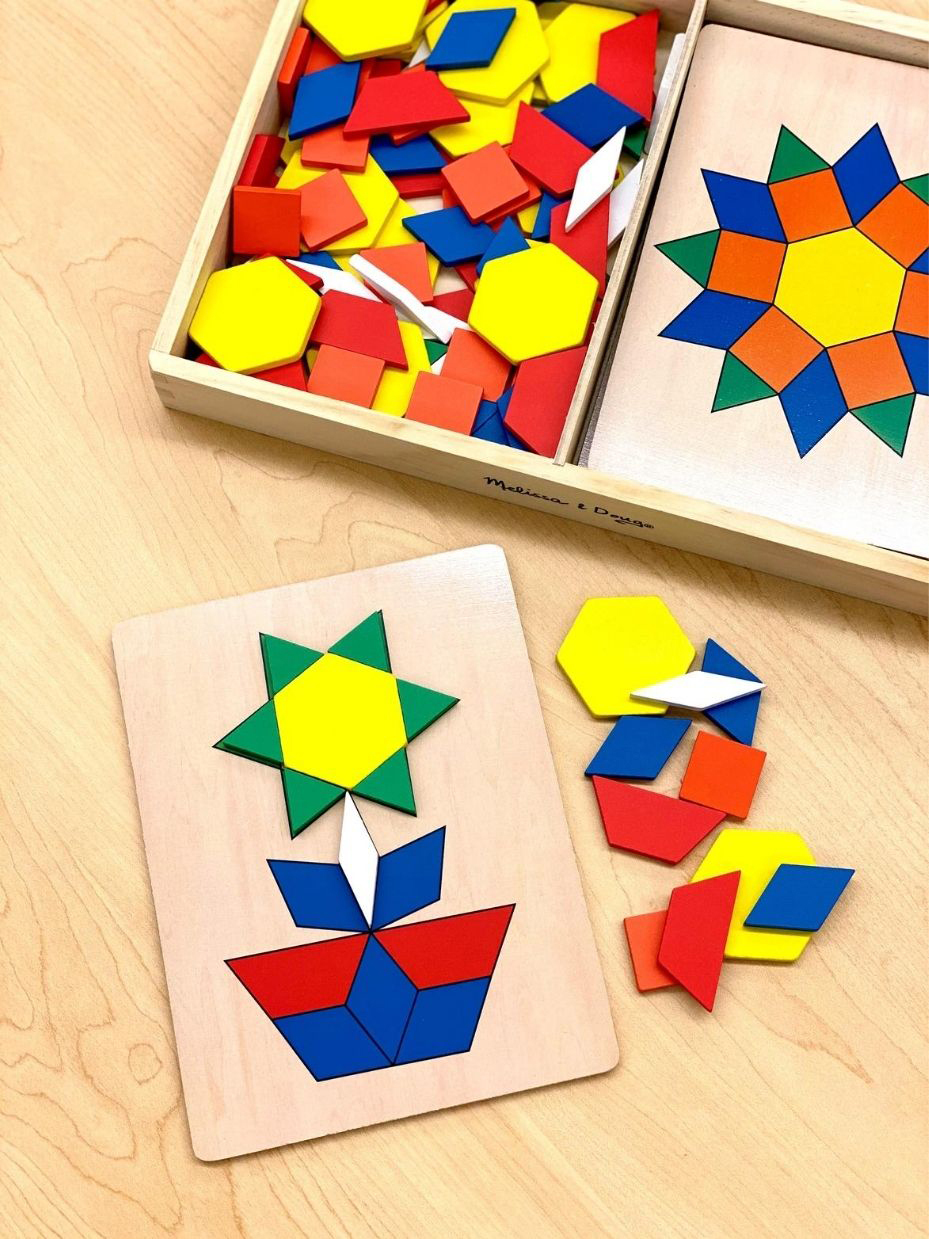 Pattern blocks are a great tool for building spatial reasoning, as well as shape recognition. This Melissa & Doug® Pattern Blocks & Boards Puzzle allows students to explore patterning, sorting and symmetry. This activity is also perfect for practicing matching or color recognition. Your students will love working independently and exploring their imagination to create their own mosaic. The wooden tray allows students to easily store all the board puzzles and pattern blocks for easy cleanup.
8. LETTER FORMATION SAND TRAY ACTIVITY
Practicing letters and sounds with a Letter Formation Sand Tray is both fun and engaging, and it is great for early learners, too. This hands-on activity is perfect for reviewing letters or letter formations, or it can be used as a reward after students have finished completing all of their work. In this activity, students will use a Learning How to Write Alphabet Flip Chart to help students learn how to form each letter in their letter formation sand tray. This will ensure that all students are properly forming each letter as they complete this early finishers independent activity.
9. BLACK TOP-LOADING DRY ERASE POCKETS
These top-loading dry erase sleeves and black dry erase markers are a perfect way to practice any concept or skill without wasting paper. Just place your sheet inside the pocket, and voila! You have a reusable mat that your students can easily wipe clean. Plus, their reusability means fewer copies. Talk about a huge paper-saver. You can find a number of FREE printables on Fun365 that are perfect for using in these top-loading dry erase sleeves!
10. PRACTICE TRACING CARDS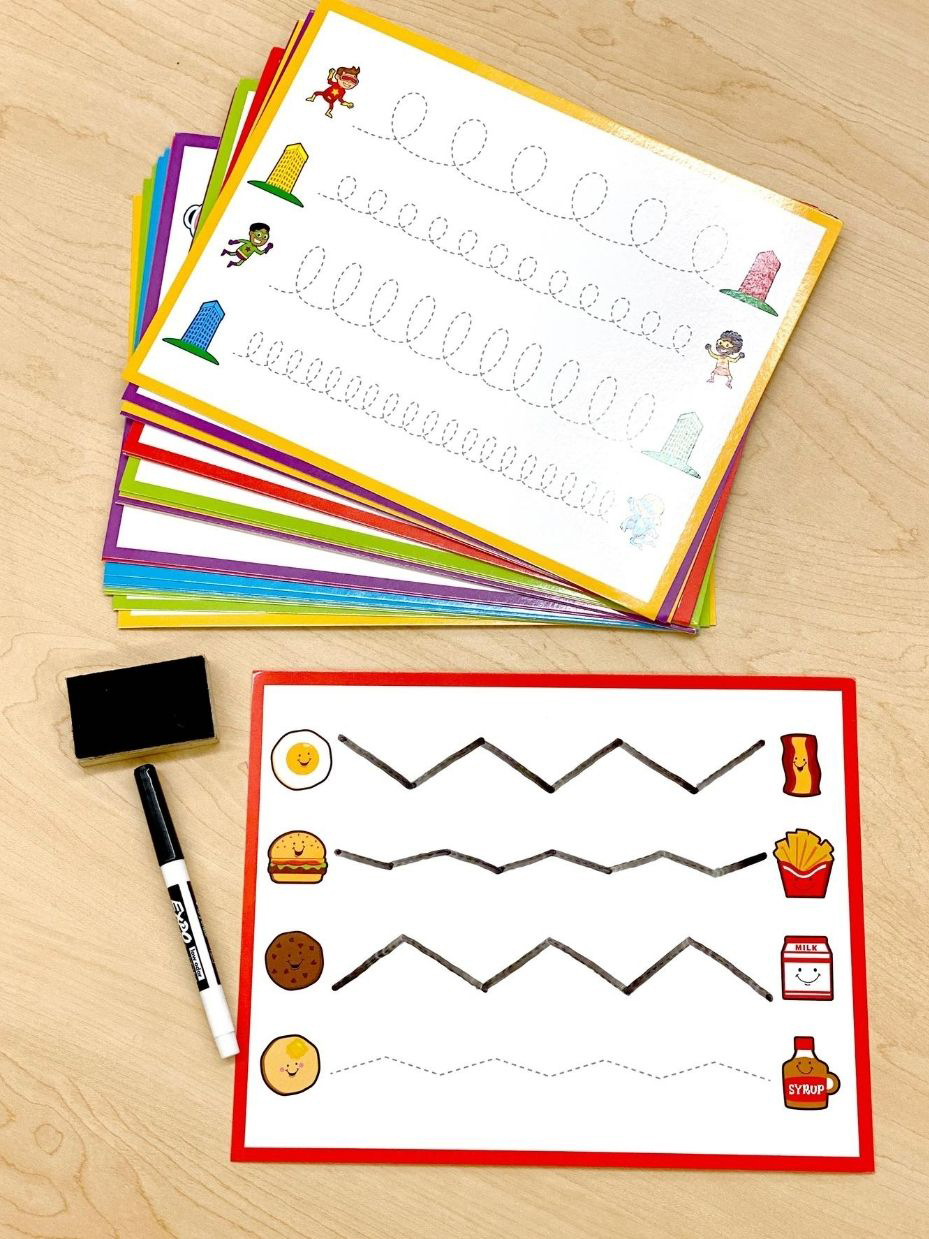 Tracing lines is just one way of helping children get ready to write. These Getting Ready to Write Dry Erase Practice Cards are perfect for developing fine motor skills. Students will love using a dry erase marker to complete each card. Plus, each card has a different theme with a variety of silly twirls, zigzags, curves, and shapes to trace! When children have the ability to trace, copy, and write lines, shapes, and patterns, they are ready to learn how to form letters.SHOP IT!